Formtek is excited to announce that Brian Rodgers, Senior Application Sales Engineer, will present two topics at the upcoming FABTECH 2022 event in November. Curious about forming and fabricating? Listen to Brian as he shares his knowledge with FABTECH attendees about roll forming basics and justification and welding profiles for roll forming. FABTECH will take place at McCormick Place in Atlanta, GA, November 8-10, 2022.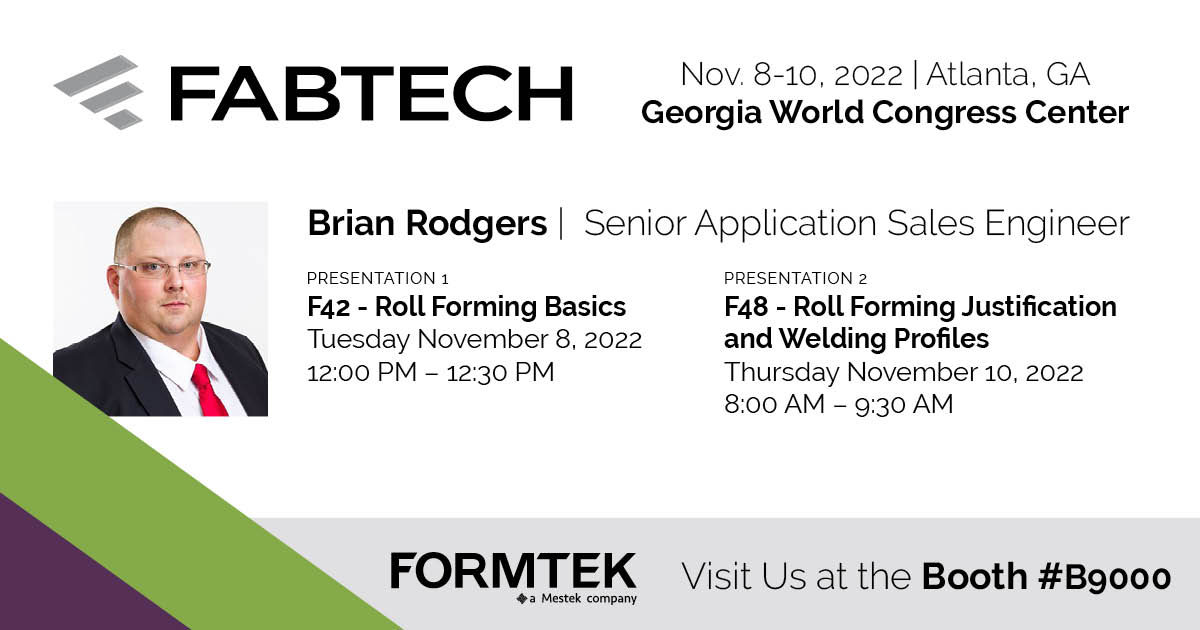 Brian will present "Roll Forming: Basics" on Tuesday, November 8, 2022, as part of the Forming and Fabricating track. You can hear Brian give this presentation at 12:00PM-1:30PM during the F42 - Roll Forming Basics session.
We are also excited to share that you can also catch Brian speak during the session F48 - Roll Forming: Justification and Welding Profiles. Brian will give his presentation titled "Justification and Welding Profiles" on Thursday, November 10, 2022, at 8:00 AM – 9:30 AM which is also part of the Forming and Fabricating track.
About Brian Rodgers
Brian began his experience as a roll form operator and realized he had a great interest in roll form methodology and entered an apprenticeship program to learn troubleshooting and department leadership. During the apprenticeship, his duties included new tooling tryout, troubleshooting of roll form processes, set up, and leadership.
Brian became a supervisor with duties including scheduling and troubleshooting of 22 roll mill lines, 25 operators, and set up personnel. He then expanded into tool engineering where he focused on new tooling and continuous improvement projects. Additional duties included new tooling and equipment buy offs.
Today Brian is a Sr Applications Engineer where his experience helps create solutions for Formtek customers in the industry of roll forming through equipment and tooling. Brian is a member of and a Past Chair of FMA's Roll Forming Council.
About FABTECH
FABTECH is North America's largest metal forming, fabricating, welding and finishing event. FABTECH returns to Atlanta, GA November 8-10, 2022 and provides a convenient 'one-stop shop' venue where you can meet with world-class suppliers, see the latest industry products and developments, find the tools to improve productivity, and increase profits. FABTECH strongly believes in the power of in-person events to discover, educate, and motivate the metal fabrication industry.
Be Our Guest
Make plans to visit Formtek at FABTECH in booth B9000 to learn more about how we can enable your business to operate more efficiently. Use promo code 10298334 for free exhibit hall registration to this year's event.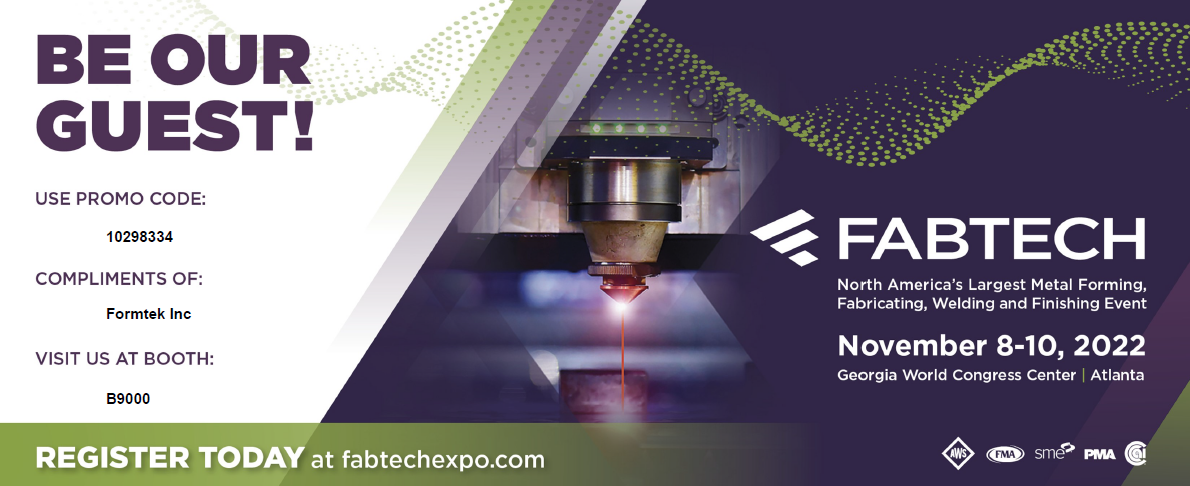 Don't miss your chance to hear Formtek's own industry expert, Brian Rodgers! Use this promo code for a free exhibit hall registration for FABTECH 2022! If you can't attend the show, you can connect with Brian before or after the show to discuss your metal forming and fabricating needs through our Contact Us page.