The anticipation is building as the construction and manufacturing industries gear up for the highly anticipated 2023 Construction Rollforming Show. This year, one name stands out among the exhibitors, promising an unparalleled display of innovation, technology, and expertise – Formtek. With its booth located at number 124, Formtek is set to debut and make waves at the Duke Energy Center in Cincinnati, Ohio, from September 27th to 28th, 2023.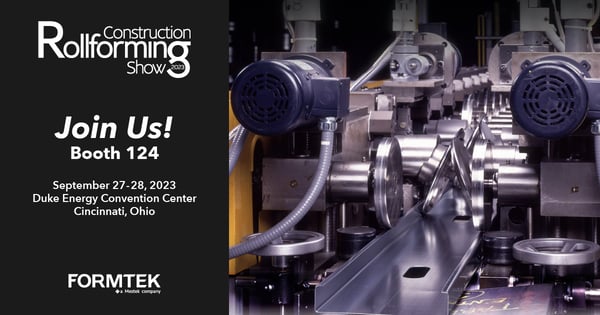 Unveiling the Future of Construction Rollforming
Formtek, a frontrunner in providing advanced rollforming solutions and machinery, is geared up to showcase its latest breakthroughs and advancements at this year's Construction Rollforming Show. From shaping raw materials to creating the foundations of modern infrastructure, Formtek's contributions have been pivotal in the evolution of the construction industry. This event presents an invaluable opportunity to witness firsthand how Formtek's technology is shaping the future.
Booth 124: A Hub of Innovation
Located at booth 124, Formtek is set to transform the exhibition space into a hub of innovation and excellence. Attendees can expect to experience a journey into the world of rollforming, witnessing the intricate processes that lead to the creation of sturdy, reliable, and efficient construction components. Whether you're a seasoned professional or new to the industry, the Formtek booth promises something for everyone.
Highlights to Anticipate
Cutting-Edge Machinery: Formtek is set share information about all its latest cutting-edge rollforming machinery and B&K product lines, all of which are engineered to enhance production efficiency, accuracy, and quality. After visiting the booth, attendees will understand Formtek's seamless blend of traditional craftsmanship with state-of-the-art technology.
Expert Consultations: The Formtek team comprises industry experts with years of experience under their belts. At booth 124, visitors can engage in insightful consultations, gaining valuable knowledge about rollforming processes, best practices, and the latest industry trends.
Networking Opportunities: The Construction Rollforming Show is not only about cutting-edge technology; it's also a prime networking opportunity. Engage with fellow professionals, industry leaders, and innovators to exchange ideas and forge valuable connections.
A Glimpse into the Future
The 2023 Construction Rollforming Show is more than just an exhibition: it's a glimpse into the future of the construction industry. Formtek's presence at booth 124 is a testament to its commitment to pushing the boundaries of what's possible in rollforming technology. From the heart of Cincinnati, Ohio, Formtek is poised to inspire, educate, and captivate attendees with unwavering dedication to excellence.
Mark Your Calendar
Make sure to mark your calendar for September 27th and 28th, 2023, as the Duke Energy Center in Cincinnati, Ohio, transforms into a hotspot of innovation and progress. Formtek's booth 124 is where you'll find a world of opportunities to explore, connect, and discover the future of construction rollforming.
In an industry that's always evolving, Formtek remains at the forefront, and the 2023 Construction Rollforming Show is the perfect platform to experience that impact firsthand. Don't miss out on this opportunity to witness the fusion of technology, craftsmanship, and vision that's shaping the buildings of tomorrow.
About the Construction Rollforming Show
The Construction Rollforming Show is targeted at an audience of medium to large builders, dealers, distributors, and manufacturers. During this special event, more than 50 exhibitors will fill the 15,000-square-foot show floor. From raw materials to automation software, exhibitors will feature products and information to support all facets of the rollforming industry, including Rollformers, Coil Suppliers, Paint & Coating Manufacturers, Clips, Clamps & Components, Design & Efficiency Automation Software, Snow Retention, Ventilation & Moisture Control. Education & Special Presentations include: Inventory Control Management, Improving Quality Control & Management, Coil & Steel Metallurgy, Paint & Coating Technology, Business Best Practices & Development.
About Formtek
Formtek is a group of long-established metal forming equipment manufacturing companies, each with a well-known name and a history of providing innovative and reliable equipment to the metal forming and metal processing industries. Dedicated to the highest industry standard and technical accountability for our domestic and international customers, Formtek specialists comprise a well-built team of management, sales engineers, and support staff who pride themselves on being true experts with an in-depth knowledge of all our brands of equipment. With multiple brands spread across several facilities, as well as a network of dealers covering six continents, Formtek's expansive network is here to support your metal forming and fabricating equipment needs. The Formtek family of brands include B&K, Coilmate/Dickerman, CWP, Dahlstrom, Hill Engineering, Lockformer Custom Machinery, Rowe, Tishken, Winpro, and Yoder.