Formtek returns to FABTECH 2022 in Atlanta!
We're excited to announce that Formtek will be exhibiting again at FABTECH Expo this year in November. FABTECH is North America's largest metal forming, fabricating, welding, and finishing event. This is the premier event for the metal fabricating industry and is the most authoritative event for all the associated industries. This is your chance to discuss your roll forming, tube mill, and fabricating needs with the industry experts from Formtek.
When: November 8-10, 2022
Where: Georgia World Congress Center, Atlanta, Georgia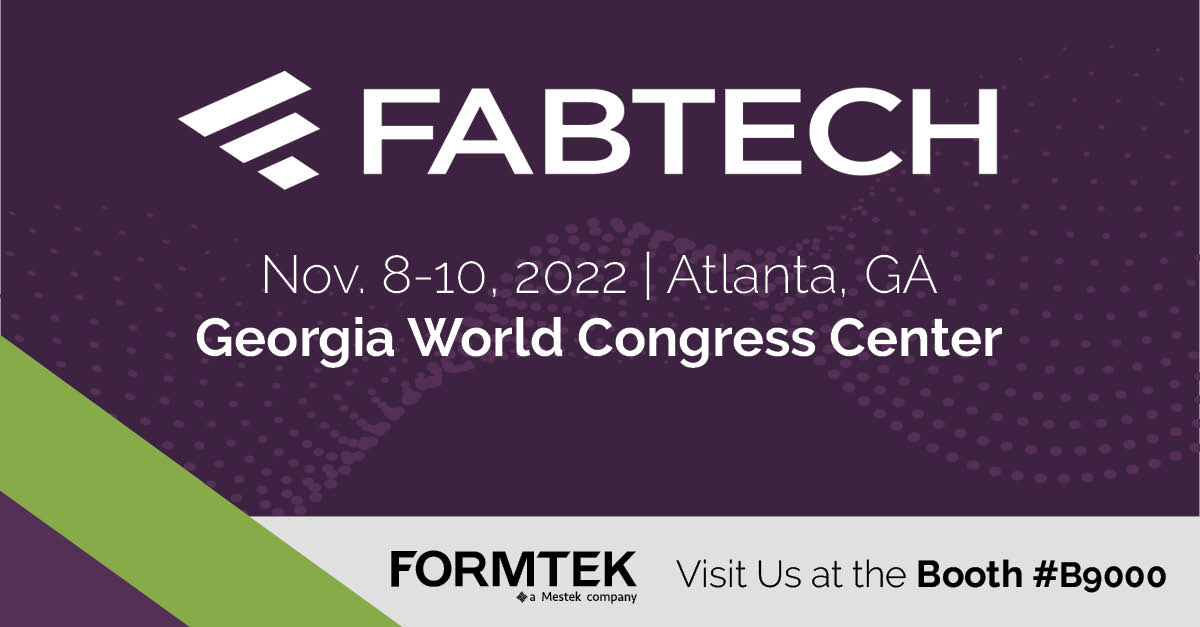 We can't wait to network with others in the industry, so plan on visiting Formtek at FABTECH in booth B9000 to learn how Formtek can provide your business with a distinct competitive advantage.
What is FABTECH?
FABTECH is North America's largest metal forming, fabricating, welding, and finishing event. At FABTECH, you can expect to see world-class exhibits showcasing high-tech metalworking machinery, network with other industry professionals, and learn the latest from expert-led educational sessions. FABTECH offers the opportunity to gain new knowledge and information to help build a better business. FABTECH provides a convenient 'one-stop shop' venue where you can meet with world-class suppliers, see the latest industry products and developments, and find the tools to improve productivity and increase profits. FABTECH strongly believes in the power of in-person events to discover, educate, and motivate the metal fabrication industry.
Technologies Featured at FABTECH
Assembly

Automation

Bending & Forming

CNC

Coating Applications

Coil Processing

Fabricating

Finishing

Forming & Fabricating

Laser, Plasma & Water Cutting

Machine Tools

Plate and Structural

Powder Coatings

Press Brakes

Punching

Robotics

Roll Forming

Saws and Cut-off Machines

Shears

Stamping

Tooling

Tube and Pipe Equipment

Welding
Top 6 Reasons to Attend FABTECH 2022
Learn about the latest advancements in technology for the metal forming, fabricating, and welding industry

Source current and potential suppliers

See live demonstrations

Meet with experts in the industry

Meet with your peers on the show floor and in educational seminars

Connect with the industry experts of Formtek!
Check out the FABTECH Atlanta 2022 Show Preview:
Attend FABTECH for FREE
Make plans to visit Formtek at FABTECH in booth B9000 to learn more about how we can enable your business to operate more efficiently. Use promo code 10298334 for free exhibit hall registration to this year's event.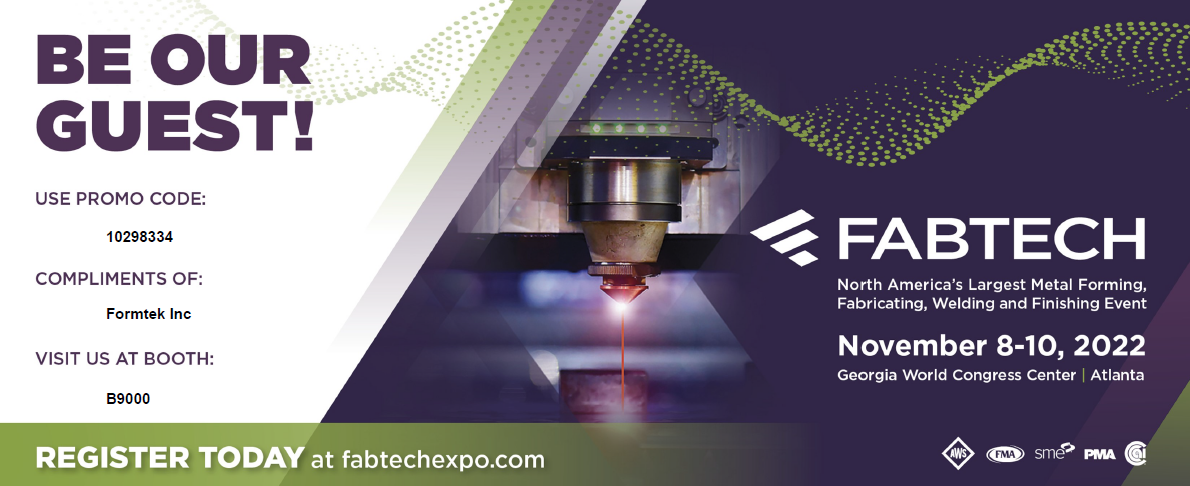 Who is Formtek?
Formtek is a group of long-established metal forming equipment manufacturing companies, each with a well-known name and a history of providing innovative and reliable equipment to the metal forming and metal processing industries. Dedicated to the highest industry standard and technical accountability for our domestic and international customers, Formtek specialists comprise a well-built team of management, sales engineers, and support staff who pride themselves on being true experts with an in-depth knowledge of all our brands of equipment. With multiple brands spread across several facilities, as well as a network of dealers covering six continents, Formtek's expansive network is here to support your metal forming and fabricating equipment needs. The Formtek family of brands include B&K, Coilmate/Dickerman, CWP, Dahlstrom, Hill Engineering, Lockformer Custom Machinery, Rowe, Tishken, Winpro, and Yoder.