Formtek recently shipped two Tishken MLW Series Medium Light Duty Roll Forming Systems complete with sheet destackers, roll forming machines, and conveyors as part of a new product launch to a major metal furniture manufacturer. The destackers and incoming conveyors employ the latest double sheet protection to ensure that two sheets do not go through the roll forming machines. Formtek was happy to work with this company to accomplish their goals. The control system is designed so that the operator removing the part at the end of the line automatically signals the destacker to drop the next blank into the roll forming machine. In theory, the operator never needs to wait for the next part.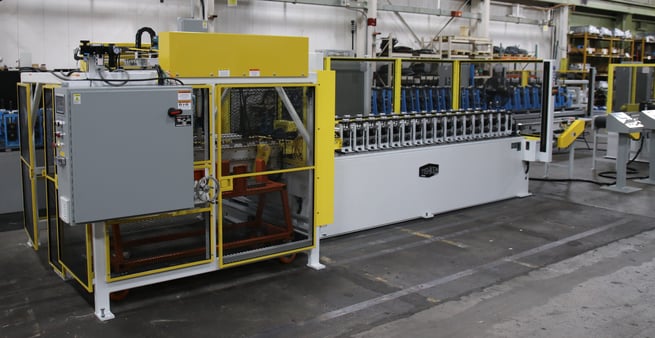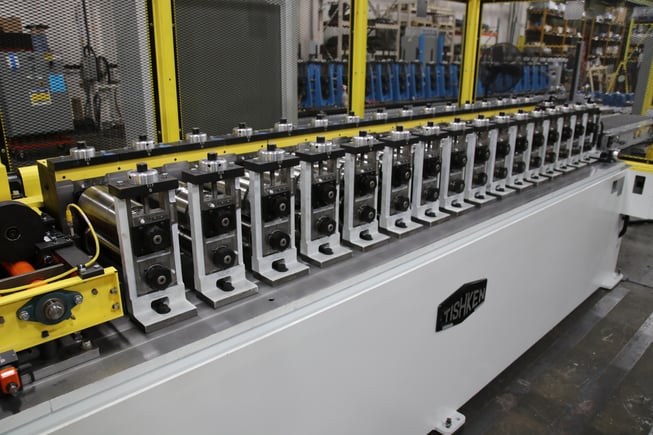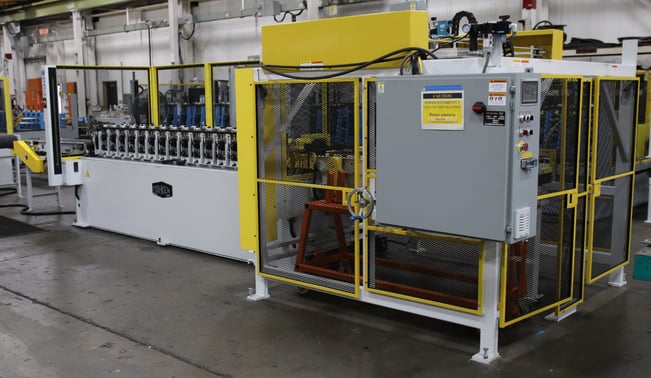 The Product
The Tishken MLW Series Medium Light Duty Roll Forming Systems are used for forming medium light sections that are slightly wider and slightly deeper than the light series. These machines may be applied efficiently and economically for low as well as high production jobs. The close horizontal distance of roll spindles permits easier forming of pre-notched stock into complicated of irregular shapes. Common products produced on MLW Series roll formers include roll-up garage doors and vinyl window stiffeners. To read more about this product visit the product page.
About Tishken
Tishken is a designer and builder of machinery and tooling for roll forming and specialty coil processing applications. Founded in 1921, Tishken is a leading supplier of high quality roll forming machinery and tooling to range of industries including automotive, appliance, building products, metal service center, and metal processing industries. For service centers and OEMs, Tishken's coil processing solutions include the industry renowned Edger for heavy gauge applications, as well as narrow width slitting. You can find more information on the Tishken page.
About Formtek
Tishken is a member of the Formtek. Formtek is a group of long-established metal forming equipment manufacturing companies, each with a well-known name and a history of providing innovative and reliable equipment to the metal forming and metal processing industries. Dedicated to the highest industry standards and technical accountability to their domestic and international customers, Formtek specialists are comprised of a well-built team of management, sales engineers, and support staff who pride themselves on being true experts with an in-depth knowledge of all our brands of equipment. With several brands spread across many facilities spanning three continents, as well as a network of dealers covering six continents, Formtek's expansive network is here to support your metal forming and fabricating equipment needs. The Formtek family of brands include: B&K, Dahlstrom, Hill Engineering, Lockformer Custom Machinery, Tishken, Winpro, and Yoder. To learn more about Formtek's brands please visit the brand page.