The world of metal manufacturing is constantly evolving, and with each advancement, professionals seek to discover the most efficient and cost-effective methods. In this pursuit, Formtek's Brian Rodgers will speak live at METALCON LIVE, presented by METALCON and FMA on August 23, 2023 at 1 PM EST. With his expertise in roll forming, Rodgers will shed light on the critical aspect of justifying roll forming versus other processes for metal products. The presentation emphasizes the importance of understanding the comprehensive business case before delving into roll forming while highlighting the manifold benefits it offers. Registration for this FREE live online session is now open! Those interested in attending this session can register here.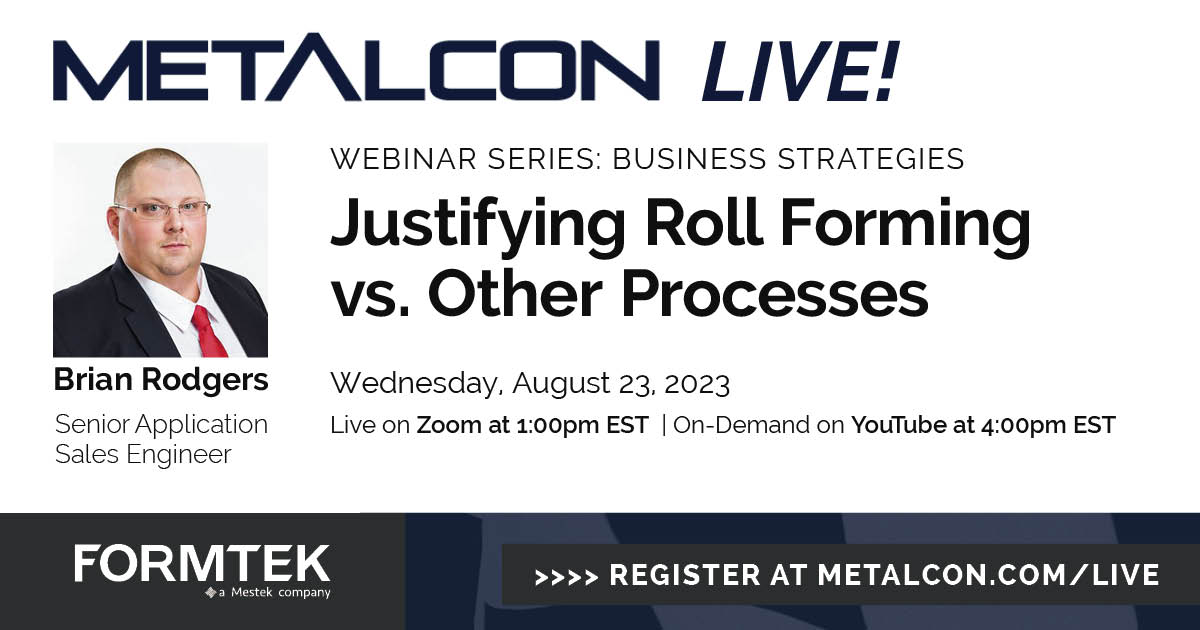 Brian Rodgers, Senior Applications Sales Engineer at Formtek, is an esteemed professional known for his deep understanding of cutting-edge roll forming manufacturing technologies. With years of experience in the industry, Rodgers has witnessed firsthand the customers understand, incorporate, and benefit from roll forming. In his upcoming live online session, Rodgers will delve into these technologies, shedding light on how they can reshape traditional manufacturing processes.
Roll Forming: More Than Just a Technical Process
As Brian Rodgers addresses the online METALCON LIVE audience, he will emphasize that roll forming is not merely a technical process; it is a strategic business decision. Before embarking on a roll forming project, it is essential to consider various factors, both direct and indirect, to make an informed choice.
Calculating Direct and Indirect Costs
One of the primary considerations in justifying roll forming is evaluating the direct and indirect costs associated with the process. Direct costs encompass expenses directly tied to the production of the metal product, such as material costs, labor, and equipment. On the other hand, indirect costs include overhead expenses, maintenance, and tooling. Rodgers will also explain that comprehending these costs will allow manufacturers to assess whether a particular part is suitable for roll forming or if an alternative manufacturing process would be more efficient and cost-effective.
In-House Production or Outsourcing?
Another crucial decision is determining whether the company should take on the roll forming project in-house or collaborate with an outside vendor. Rodgers highlights that both options have their merits and depend on factors such as the company's existing capabilities, capacity, and expertise. In-house production grants greater control over the manufacturing process, quality, and lead times, but it requires significant investments in equipment and training. On the other hand, outsourcing to an experienced roll-forming vendor offers cost savings, reduced lead times, and access to specialized expertise.
Impact on Staffing Levels and Operating Parameters
When contemplating a roll forming project, it is essential to consider its impact on staffing levels and overall operating parameters. Roll forming, as an efficient production process, may lead to increased productivity, which could necessitate adjustments in workforce allocation. Properly managing these changes ensures a smooth transition and optimized operations.
Benefits of Roll Formed Metal Products
Rodgers is expected to also highlight the numerous benefits of roll formed metal products, further solidifying the case for this manufacturing method. These benefits include:
Versatility: Roll forming allows manufacturers to produce a wide range of complex shapes and profiles, catering to diverse industry needs.
Cost-Effectiveness: The efficiency of the roll forming process leads to reduced material waste and lower production costs.
Consistency and Precision: Roll forming ensures consistent dimensions and tolerances, providing high-quality and precise metal products.
Strength and Durability: Roll-formed metal products boast excellent structural integrity and longevity, making them ideal for various applications.
Quick Turnaround: The streamlined process of roll forming allows for faster production and delivery times ideal for meeting tight project schedules.
Formtek's Brian Rodgers' insightful presentation for METALCON LIVE 2023 will shed light on the crucial considerations when justifying roll forming versus other manufacturing processes for metal products. He will emphasize the need for a thorough business case that factors in direct and indirect costs, potential outsourcing options, and the impact on staffing levels and operating parameters. The benefits of roll formed metal products, including versatility, cost-effectiveness, precision, strength, and quick turnaround further substantiate roll forming as a valuable technique in modern metal manufacturing. Don't miss this FREE live online session!
By combining technical expertise with strategic decision-making, manufacturers can harness the power of roll forming to stay ahead in the competitive metal industry and meet the demands of tomorrow.
About Brian Rodgers
Brian began his experience as a roll form operator and realized he had a great interest in roll form methodology and entered an apprenticeship program to learn troubleshooting and department leadership. During the apprenticeship, his duties included new tooling tryout, troubleshooting of roll form processes, set up, and leadership. Brian became a supervisor with duties including scheduling and troubleshooting of 22 roll mill lines, 25 operators, and set up personnel. He then expanded into tool engineering where he focused on new tooling and continuous improvement projects. Additional duties included new tooling and equipment buy offs. Today Brian is a Sr Applications Engineer where his experience helps create solutions for Formtek customers in the industry of roll forming through equipment and tooling. Brian is a member of and a Past Chair of FMA's Roll Forming Council.
About Formtek
Dedicated to the highest industry standard and technical accountability for our domestic and international customers, Formtek specialists comprise a well-built team of management, sales engineers, and support staff who pride themselves on being true experts with an in-depth knowledge of all our brands of equipment. With multiple brands spread across several facilities, as well as a network of dealers covering six continents, Formtek's expansive network is here to support your metal forming and fabricating equipment needs. The Formtek family of brands include B&K, Coilmate/Dickerman, CWP, Dahlstrom, Hill Engineering, Lockformer Custom Machinery, Rowe, Tishken, Winpro, and Yoder.
About METALCON LIVE!
METALCON LIVE! is the metal construction and design industry's source for knowledge. It's a free business-boosting resource for NEW solutions, NEW strategies, and NEW ways to grow your business. METALCON LIVE! Is also available on-demand (on YouTube) so you can attend any session and earn AIA credits at your convenience. To learn more about this free resource and see a complete library of on demand videos, visit METALCON LIVE!