Are you a manufacturing enthusiast looking to stay ahead of the game and explore the latest trends in metal forming, fabricating, welding, and finishing? Look no further! FABTECH 2023 is just around the corner, and it's the ultimate event that no industry professional can afford to miss. As one of the largest metalworking exhibitions in the world, FABTECH promises to deliver an unparalleled experience filled with innovation, networking opportunities, and educational insights. In this post, we'll explore the top ten reasons why you should attend FABTECH 2023!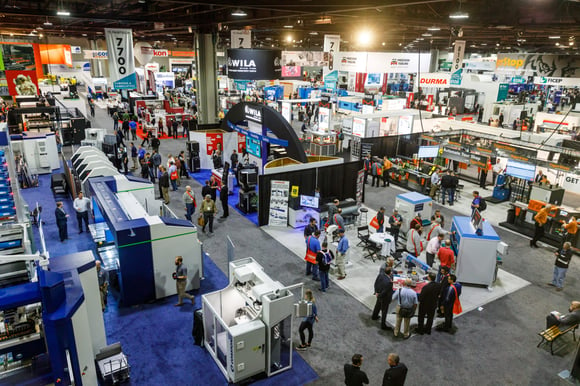 Cutting-Edge Technology Showcase
FABTECH is renowned for being the go-to event for showcasing cutting-edge technologies in the manufacturing industry. Manufacturers from all over the world gather to exhibit their latest products and services, from advanced machinery and equipment to the latest software and automation solutions. Whether you're interested in CNC machining, laser cutting, 3D printing, or smart manufacturing, FABTECH 2023 will present an extensive array of technological wonders that can revolutionize your production processes. Witnessing these innovations firsthand can give you a competitive edge and inspire new ideas for your own business.
Educational Workshops and Seminars
FABTECH isn't just a trade show; it's also a hub for learning and development. The event features an impressive lineup of educational sessions, keynote speakers, and expert-led workshops. Attendees can benefit from insights shared by industry leaders, experts, and visionaries who can shed light on current and future trends in the manufacturing sector. Whether you're seeking to deepen your technical knowledge or understand market trends, these learning opportunities at FABTECH 2023 will be invaluable in enhancing your professional growth.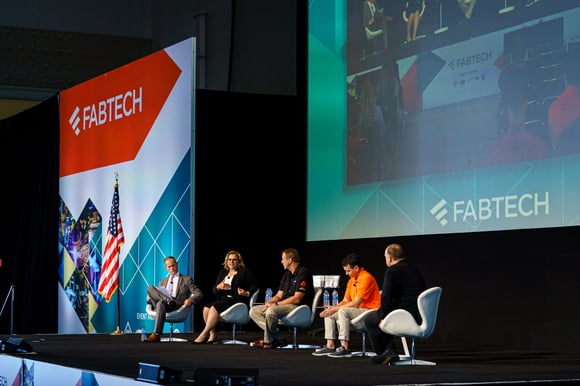 Get Certified
Keeping the credentials you've worked hard for is just as important as earning them. The FABTECH Conference offers an array of sessions, seminars, and workshops that may be eligible for PDH (Professional Development Hours) toward your re-certification needs.
Networking Galore
Meeting like-minded professionals and forging new connections is a crucial aspect of any industry event, and FABTECH excels in this area. With thousands of attendees, including manufacturers, engineers, industry influencers, and executives, the event provides the perfect platform for networking. You can exchange ideas, discuss potential collaborations, and even find new suppliers or customers. The opportunity to interact with industry peers can open doors to new partnerships and business opportunities, making FABTECH 2023 an event with enormous potential for growth and expansion.
Gain a Competitive Edge
In today's rapidly evolving manufacturing landscape, staying competitive is vital for the success of any business. FABTECH 2023 offers an unparalleled chance to assess your competition and identify ways to stand out in the market. By keeping up with the latest trends, technologies, and strategies showcased at the event, you can streamline your processes, improve efficiency, and reduce production costs. The knowledge gained from FABTECH can help your company innovate and adapt to ever-changing industry demands, giving you a distinct advantage over your competitors.
Explore Industry-Specific Pavilions
FABTECH is not just a one-size-fits-all exhibition; it caters to various industries within the manufacturing sector. The event features industry-specific pavilions, such as metal forming, welding, finishing, and fabricating. This segmentation allows attendees to focus on areas most relevant to their interests and needs. Whether you're primarily involved in aerospace, automotive, construction, or any other industry, you can explore tailored exhibits, sessions, and technologies that align with your specific field of expertise.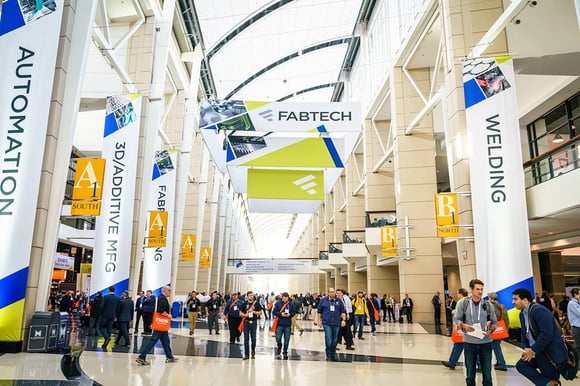 Exposure to New Products and Solutions
FABTECH is a treasure trove of products and solutions specifically tailored to meet the needs of the metal fabrication industry. The exhibition floor is packed with booths representing diverse companies and their offerings. This is your chance to explore the latest raw materials, machining tools, safety equipment, software solutions, and more. Gain insights into the products that can optimize your processes, improve efficiency, and boost productivity. The hands-on experience at FABTECH will help you make informed decisions when investing in new equipment or adopting novel methodologies.
Inspiration and Innovation
There's an undeniable energy at FABTECH, with minds abuzz with creativity and inspiration. Being surrounded by passionate individuals and witnessing innovative solutions can reignite your enthusiasm for metal fabrication. The event is an ideal platform for ideation and brainstorming, allowing you to think outside the box and embrace novel approaches. Return to your workplace with renewed motivation, armed with fresh ideas that can lead to groundbreaking advancements within your company.
Attend FABTECH Expo Hall for Free & Get Discounts on Conference Registration
Formtek has a promo code for a FREE Expo Hall registration! Make plans to visit Formtek at FABTECH in booth A4907 to learn more about how we can enable your business to operate more efficiently. Use promo code 10298334 for free exhibit hall registration to this year's event.

Formtek is also offering additional discounts on conference registrations. Use Formtek's speaker discount code to save 20% on your registration costs. Feel free to share this code with your contacts and colleagues who are attending FABTECH to save a little money. Use code FBSPK20 to get the discount! Visit FABTECH's website to register.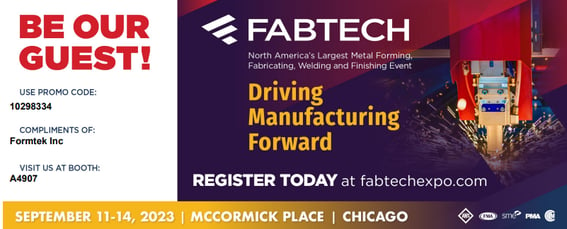 Visit Formtek at the Show





Last but definitely not least, Formtek's #10 reason for attending FABTECH 2023 is to visit Formtek in booth #A4907 in the Forming & Fabricating section located in the South Hall! Why visit Formtek? Here are a few reasons:




Formtek boasts a rich history in the metal forming and fabricating industry, spanning several decades. With a team of highly skilled engineers, technicians, and professionals, our expertise is second to none. Visitors to booth A4907 can expect to engage with industry veterans who have an in-depth understanding of the challenges and opportunities in metal fabrication. Whether you're seeking advice on process optimization or custom solutions tailored to your needs, Formtek's knowledgeable staff is there to assist you.


One size does not fit all, especially in metal fabrication. Formtek recognizes the uniqueness of each customer's requirements and provides tailor-made solutions to address specific challenges. When you visit Formtek, you'll have the opportunity to discuss your business needs with Formtek's experts. They will collaborate with you to understand your goals and constraints, offering personalized recommendations and solutions that align with your vision and objectives.


FABTECH is an ideal platform for networking and collaboration, and Formtek's booth presents an excellent opportunity to connect with industry peers. Engage in conversations with other visitors who share similar interests, challenges, and goals in the metal forming and fabricating domain. Sharing experiences and insights with like-minded professionals can spark new ideas and foster potential partnerships that may lead to mutually beneficial ventures.
In a sea of exhibitors at FABTECH 2023, Formtek stands tall as a beacon of innovation, expertise, and personalized solutions in the metal forming and fabricating industry. Visiting booth A4907 is a must for customers looking to elevate their metalworking operations and explore the latest advancements in the field. Engage with industry experts, witness live demonstrations of cutting-edge technologies, and connect with like-minded professionals. Be inspired and get equipped with the tools you need to take your metal fabrication business to new heights. See you at Formtek's booth at FABTECH 2023!
FABTECH 2023 is undoubtedly a must-attend event for professionals in the manufacturing industry. From witnessing cutting-edge technology demonstrations to gaining valuable insights from industry leaders and networking with peers, the benefits are immense. By participating in FABTECH, you position yourself and your company at the forefront of innovation, gaining a competitive edge that can drive your business to new heights. So, make sure to mark your calendar and join thousands of industry enthusiasts at FABTECH 2023 - an experience that promises to be both enlightening and rewarding.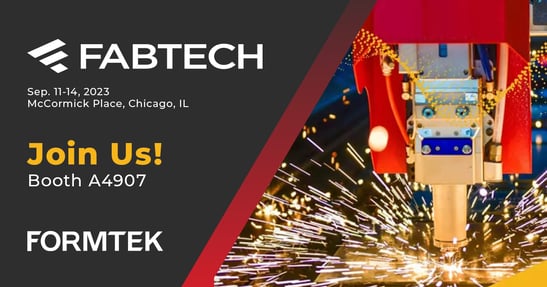 Formtek is a group of long-established metal forming equipment manufacturing companies, each with a well-known name and a history of providing innovative and reliable equipment to the metal forming and metal processing industries. Dedicated to the highest industry standard and technical accountability for our domestic and international customers, Formtek specialists comprise a well-built team of management, sales engineers, and support staff who pride themselves on being true experts with an in-depth knowledge of all our brands of equipment. With multiple brands spread across several facilities, as well as a network of dealers covering six continents, Formtek's expansive network is here to support your metal forming and fabricating equipment needs. The Formtek family of brands include B&K, Coilmate/Dickerman, CWP, Dahlstrom, Hill Engineering, Lockformer Custom Machinery, Rowe, Tishken, Winpro, and Yoder.
What is FABTECH?
FABTECH is North America's largest metal forming, fabricating, welding, and finishing event. At FABTECH, you can expect to see world-class exhibits showcasing high-tech metalworking machinery, network with other industry professionals, and learn the latest from expert-led educational sessions. FABTECH offers the opportunity to gain new knowledge and information to help build a better business. FABTECH provides a convenient 'one-stop shop' venue where you can meet with world-class suppliers, see the latest industry products and developments, and find the tools to improve productivity and increase profits. FABTECH strongly believes in the power of in-person events to discover, educate, and motivate the metal fabrication industry.