As a recognized leader in the metal forming equipment manufacturing industry, Formtek is proud to announce that Paul Williams, VP, Business Development, will speak at the upcoming FABTECH 2022 trade show. FABTECH will take place in Atlanta, GA on November 8-10, 2022. With decades of experience, Paul Williams will share his tips, tricks, and insights about roll forming with in-line punching, cutoff dies, and press tonnage.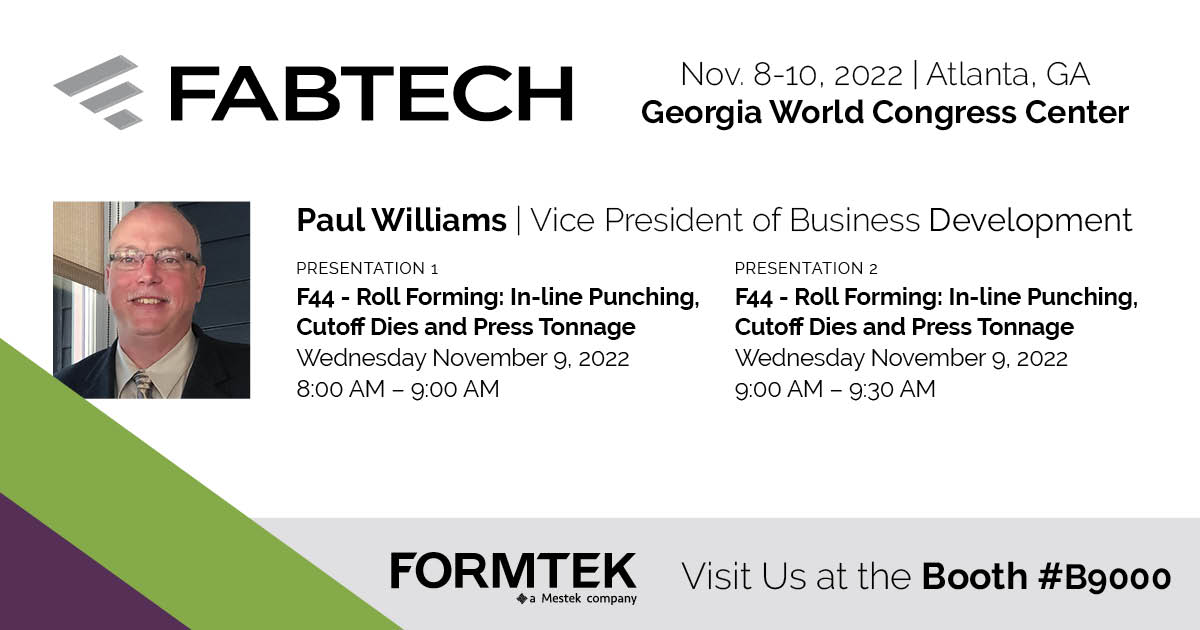 Paul will share his insight during his presentation "Increasing Value to Your Roll Forming Lines with In-line Punching and Cutoff Dies." This presentation is part of the Forming and Fabricating track and can be seen on Wednesday, 9, 2022 from 8:00 AM – 9:00 AM in room B305.
You can also catch Paul as he presents "When the Press Tonnage Rating is Really Not That Tonnage." This presentation is also part of the Forming and Fabricating track and can be seen on Wednesday, November 9, 2022 from 9:00 AM – 9:30 AM in room B305.
About Paul Williams
Paul will present these two highly anticipated topics relevant to the forming and fabrication industries during the FABTECH event. Paul has over 37 years' experience in the tool and die and roll forming industries as a Toolmaker, Field Service Technician, Die Design Engineer, Sales Application Engineer, Product Line Manager, and currently as the Director of Sales.
Paul received his schooling from the Tooling and Manufacturing Association in tool and die making and engineering and has a Bachelor of Science in Business Administration.
Paul has been with Hill Engineering since 1988 and has been a speaker and conference chairman for the FMA, PMA, and SME conferences. With his experience and knowledge, he has also authored several technical articles for leading industry publications. Paul served on the Fabricators and Manufactures Association Board of Directors as an Associate Director during 2013-2014 and is a current member and past chairman of FMA's Roll Forming and Technology Council.
About FABTECH
FABTECH is North America's largest metal forming, fabricating, welding, and finishing event. FABTECH returns to Atlanta, GA on November 8-10, 2022 and provides a convenient 'one-stop shop' venue where you can meet with world-class suppliers, see the latest industry products and developments, and find the tools to improve productivity and increase profits. FABTECH strongly believes in the power of in-person events to discover, educate, and motivate the metal fabrication industry.
Be Our Guest
Make plans to visit Formtek at FABTECH in booth B9000 to learn more about how we can enable your business to operate more efficiently. Use promo code 10298334 for free exhibit hall registration to this year's event.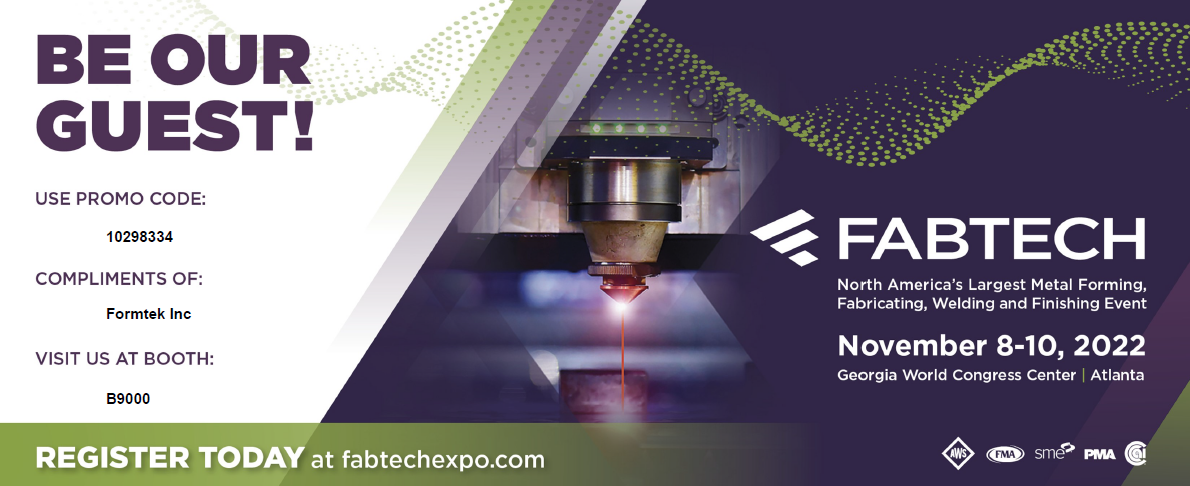 Don't miss your chance to hear Formtek's own industry expert, Paul Williams. Use this promo code for a free exhibit hall registration for FABTECH 2022! If you can't attend the show, you can connect with Paul before or after the show to discuss your metal forming and fabricating needs through our Contact Us page.