In order to run a more productive roll forming operation, you need to ensure that your machinery has the right features to produce the highest quality product in the most efficient amount of time. When investing in new machines or upgrading your current equipment, one feature you should look for is the availability of single point adjustment. Single point adjustment (SPA) is a machine feature that allows the operator to adjust the roll stand from one point, moving the top shaft up or down while keeping the roll shaft parallel to the bottom roll shaft. In this post, we'll discuss the benefits of single point adjustment in roll forming production and explain why parallelism is key to efficient roll forming.
The Benefits of Single Point Adjustment
The SPA allows for roll tooling settings to be documented, making future setups very repeatable, which reduces set up times. As roll formers age, the bearing block and adjustment screws begin to have slop in the thread adjustments. With the SPA jackscrew, this slop can be tuned out of the jackscrew to maintain the tolerance level. These units also have an analog read on the inboard and outboard jackscrews for documentation.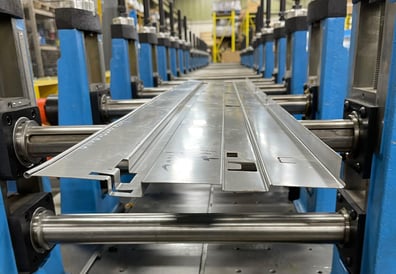 For productivity's sake, operators can adjust the machine from a safe distance, and with the analog readout they know the amount of travel on the adjustment. Single point adjustment eliminates the need for the operator to "feel" the adjustment. Instead, they have positive feedback of the adjustment. Proper set up of the roll tooling results in efficient changeovers and reduction of set up scrap. With the ability to keep the bottom and top roll shaft parallel, this also keeps even pressure on the bearing blocks, reducing the amount of maintenance the machine will need.
The unit also has an anti-backlash feature that maintains a parallelism. An unparallel set of shafts puts more pressure on one side of the material more than the other. This may create quality issues like excessive twist and camber in the final product. Parallel roll shafts reduce the chance of misaligned roll tooling, which leads to damaged tooling and excess quality issues. In addition to improving productivity and quality of the product, SPA also improves operator safety with the ability to move the roll tooling without reaching across the roll former. In summation, a machine featuring single-point adjustment can improve your roll forming operation from a variety of productivity, quality, and safety standpoints.